E-fulfillment is our specialty, so the online store remains your priority!
Complete e-fulfillment services
Taking over products in our own warehouses, preparation for delivery, packaging, labeling, delivery, shipping notifications, return processing, payment management.
Competitive prices
We manage to offer competitive prices for e-fulfillment services due to our experience of over 20 years in transport and logistics. Furthermore, we have warehouses in 2 countries, our own transport fleet and partnerships with international transport companies.
Storage
The goods are stored in spaces with high-performance installations, 24/7 monitoring, warehouses in Romania and Germany.
Automation – Integration with the WMS system
Goods management in the warehouse and order processing is realized through an automated system, using WMS (Warehouse Management System).
We ensure the integration with the e-commerce platform and with the courier companies.
Transparency – monitoring
Possibility to view and process orders online on our platform, AWB Tracking, 24/7 access to view in real time the stock, order status or other necessary reports.
We are fast
We ensure fast delivery through our own car fleet and with the support of our partners – renowned international courier companies.
National and international coverage
We offer e-fulfillment services through our warehouses in Romania and Germany, with possibilities to deliver at competitive prices in Romania, Bulgaria, Hungary, Austria, Germany, Italy, Spain, Poland.
Customised and optimised solutions
We analyze each client and offer the most suitable solution according to the requested performance indices.
Guarantee
With our insurances and our 24h/7 monitoring system, we guarantee the safety of the goods stored in our warehouses and on the entire transport flow.
Discover fast and easy the estimated price for e-fulfillment services
Free storage depending on the number of packages processed per month.
HOW DOES IT WORK?
Complete e-Fulfillment services under the motto "Logistics made in Germany"
Fast and customised services can make a difference for you and your clients
---
Warehouse management system through MyOrders application
With MyOrders application you have real-time access to your stocks, orders and deliveries, as well as the possibility of generating reports and complete information related to your products. At the same time, delivery and inventory errors will be eliminated.
Advantages offered by MyOrders application
Customer account in the application
Real-time stock product
Real-time monitoring of the reception of products in the warehouse
Tracking the processing of delivery orders
Manage returns
Generating specific reports
Integration with online shops
E-commerce supported platforms

---
We make sure that your products reach customers in the shortest time and in the best conditions
Delivery time for all routes is 24-48h
---
WAREHOUSES
Quality and speed through strategic placements, closer to customers
Bucharest, Romania
Bucharest Warehouse
Storage area: 2,000 sqm
4 ramps
Shelf and block storage
Floor storage possible
Fire detection alarm
ISU approval
Augsburg, Germania
Augsburg Warehouse
Storage area: 1200 m²
Interior height: 4.60 m – 6.20 m
Floor loading capacity: 1.5 to / sqm – 5.0 to / sqm
Alarm system
Fire detection alarm
Office space
WHY E-FULFILLMENT SERVICES OPERATED BY CONTRANSPORT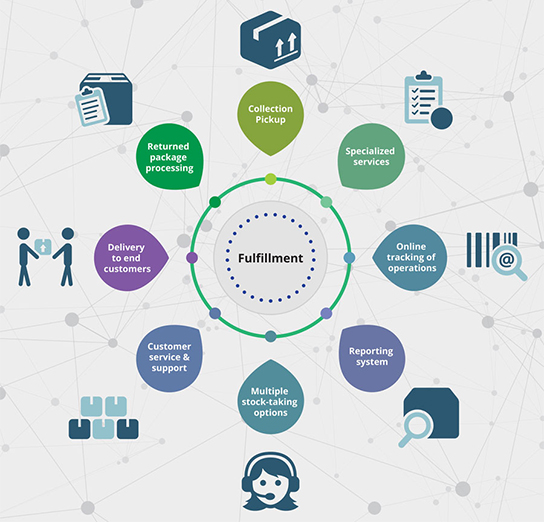 E-fulfillment services save time and money and offer you multiple advantages:
you no longer need to hire staff to process orders
the possibility of expanding the business to other markets
reduced investment costs in technology that is needed for packing, labeling, inventory, order monitoring
avoid problems with storage capacity and managing products when orders increase
you no longer have to deal with the costs for renting the storage spaces
you save time for processing the returns
non-stop delivery, even when you are away
avoid fixed costs in times of crisis and benefit from flexible costs, adjusted to sales volume
you gain time to promote your business and get new customers
We recommend Contransport company as a professional and trustworthy cooperation partner and we appreciate its high quality work, which currently stands out positively from its competitors.
Aniela Cristolovean
GV2Trade SRL
With the logistics solution proposed by Contransport, our products are received, consolidated and delivered on time. Thank you for your support.
Logistics manager
Autor Group Bavaria & iOrder
Thanks to our cooperation with Contransport we have managed to expand the market for Oriflame cosmetic products in Germany. It is a company that meets every customer requirement.
Ekaterina Kuczera
Independent Director for Germany
Contransport, for 14 years our trusted partner for special transports, logistics and international transports. Since 2005 Contransport has been our trusted partner when it comes to logistics services, express deliveries and intra-Community goods traffic.
CEO Connex GmbH
Distributie Automotive
We are very satisfied with the collaboration with Contransport, who provides us with complete logistics and fulfillment services. MyOrders platform offers us transparency and real-time view over stocks and deliveries to Amazon and communication with the Contransport team is very efficient, giving us support every time we need it. We recommend Contransport with great confidence!
Sorin Coleasa – Product Manager
Oursson Romania